Why Hush Bamboo Sheets?
Made with Pure Bamboo ⁠— No Blends
Hush sheets are made with pure bamboo only. We never use blends.
By the way, most people would say our sheets are made with "100% bamboo." We don't use that term because the Canadian government recently passed a law saying sheets manufacturers aren't allowed to say "100%" bamboo. So we say "Pure" bamboo instead.
Made With Bamboo Harvested at the Peak of Freshness
Most people don't know that bamboo is like fruit ⁠— it must be harvested at the peak freshness to give you the best end-product. Harvest your bamboo at the wrong time of year, and it'll be weaker, sleep warmer, and lose its anti-bacterial properties.
We source our bamboo at the perfect time of year so you get the full benefits of pure bamboo bed sheets.
Resists Pilling
Ever heard of the pill-resistance grading system? We certainly hadn't before we started designing our own sheets.
Turns out, sheets manufacturers have a grading system for pill-resistance. The system includes a scale from one to five. Grade 1 sheets pill easily. Grade 5 sheets rarely pill.
All Hush bamboo sheets are Grade 5 pill-resistant so they'll stay silky smooth, wash after wash.
Softer and Cooler
All Hush bamboo sheets feature a Sateen weave and graphite finish to make them feel extra soft and smooth.
What's a graphite finish? It's a special process where each bamboo sheet is pressed between huge graphite rollers to remove tiny inconsistencies you'll find in other sheets.
The combo of graphite rolling, sateen weave, and bamboo makes our sheets feel like they're 1000 thread count, even though they have the breathability of 300 thread-count sheets.
(For more info, read why "thread count" doesn't matter for bamboo sheets)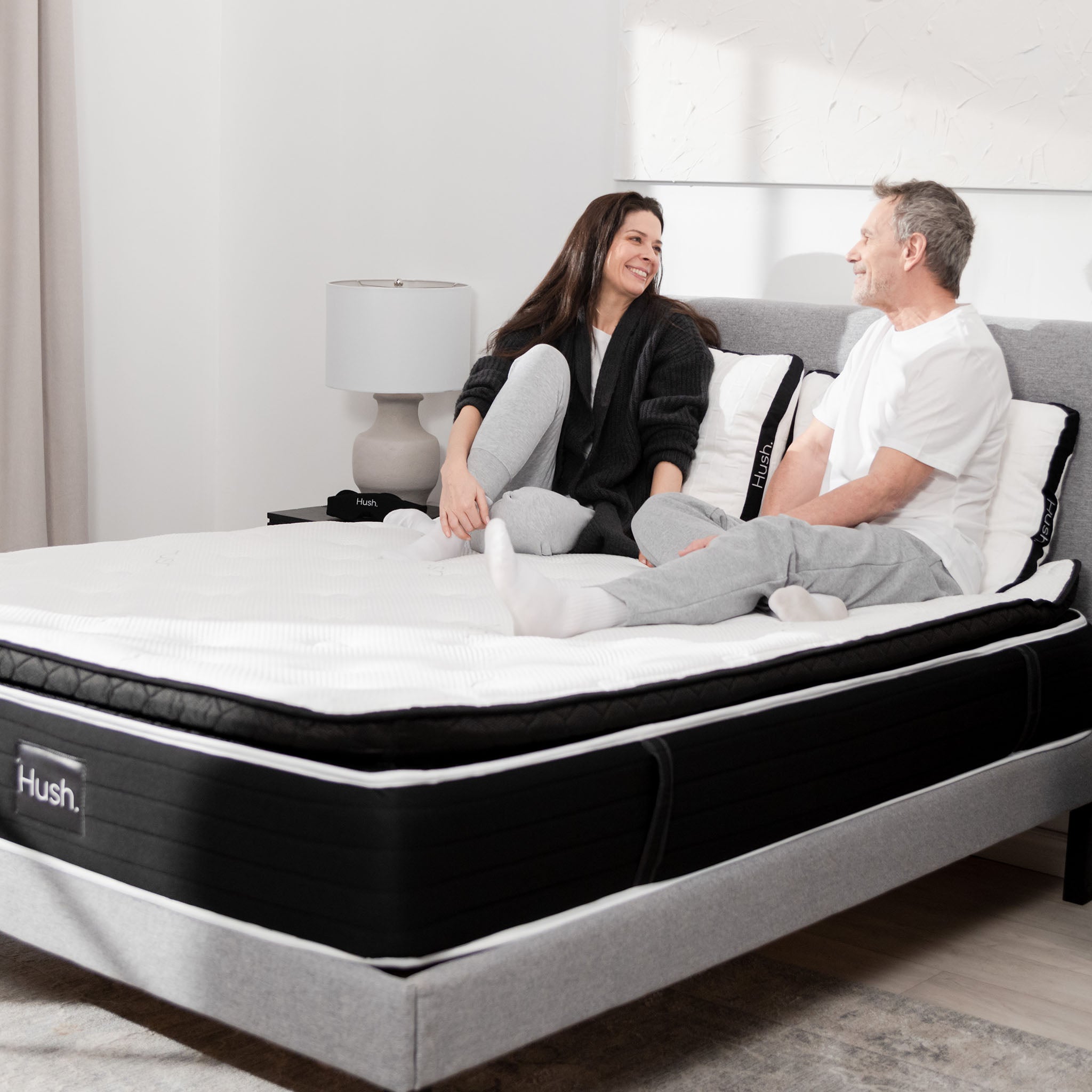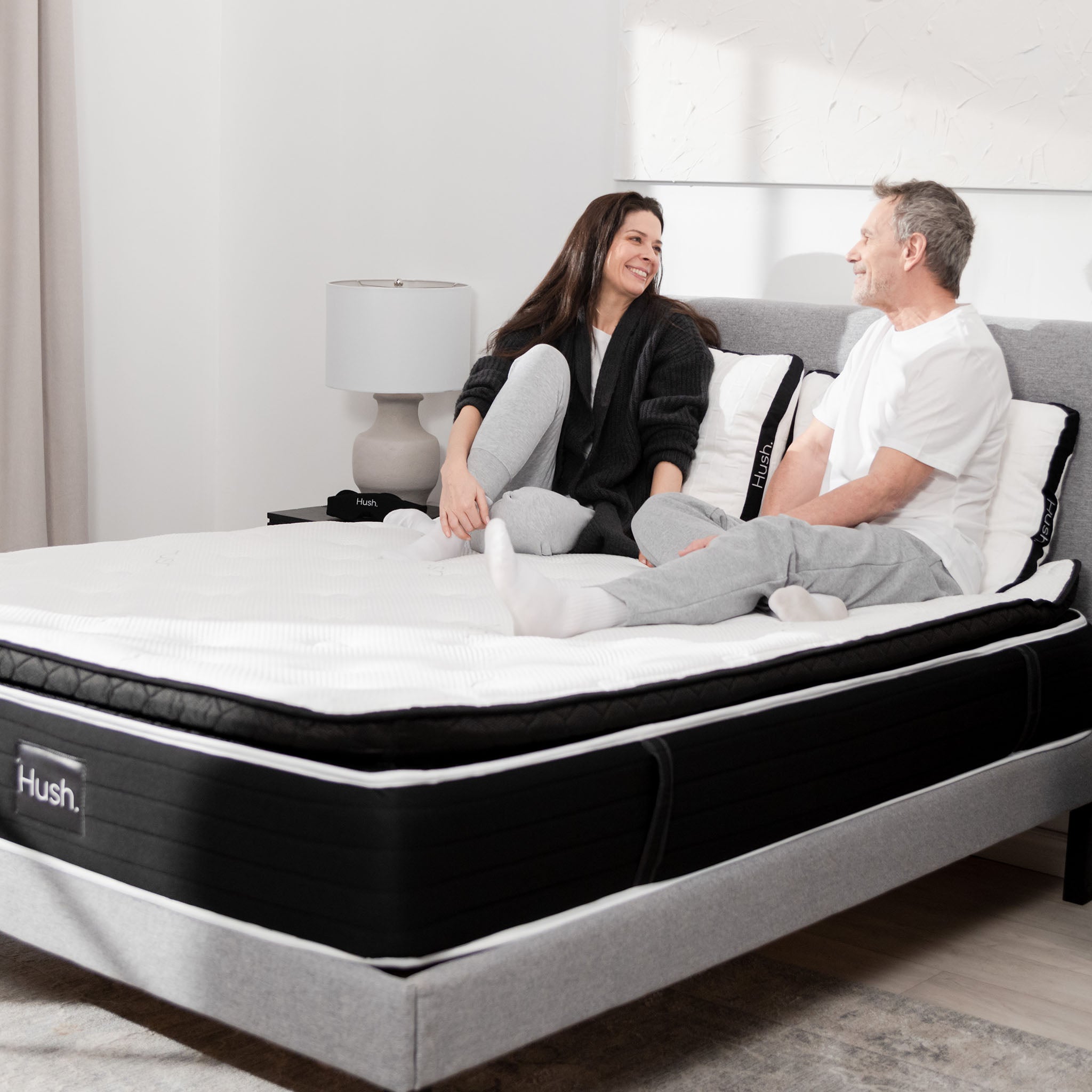 Frequently Asked Questions
All bamboo bed sheets come with a 30-night money back guarantee. Try them out for yourself, no risk! If you don't like them, ship them back to us for a refund.

After the sleep trial, all Hush products are covered by a 1-year Limited Warranty. Learn more here.
Yes, we offer installment payment plans for Hush sheets. Pay in four (4) installments spaced out over 2 months. 
Note that all payment plans are subject to approval. Learn more by clicking on the product pages above!
Hush sheets come in Twin, TwinXL, Full, Queen, and King size.
Hush sheet sets come with a flat sheet, fitted sheet, and two pillowcases by default. You'll have everything you need to improve your sleep quality today!
Yes, Hush bamboo sheets have extra-deep pockets and secure elastic straps to keep them secure on most mattresses, including extra-tall luxury mattresses.
We source our bamboo from eco-friendly growers and all our bamboo bedding is made using OEKO-tek certified materials, making them as eco-friendly as possible.
Show all
Our Guarantee
Interest-Free Payment Plan